Jul-25-2008
Something to Believe In
Writers Guild of America, West
Denis Faye
[Original article here]
Since The X-Files ended its decade-long television run six years ago, our world has only gotten weirder. So hopefully, when The X-Files: I Want to Believe hits the big screen this week, FBI Agents Fox Mulder and Dana Scully will yet again clear up a few things for audiences and finally prove that "the Truth" is indeed out there.
Among those cheering the characters return are series creator Chris Carter and series executive producer Frank Spotnitz. "I really had missed them," confides Spotnitz, who co-wrote and produced the new film with Carter, who also directed, "which is a funny thing to say about make-believe people. We had spent thousands of hours writing these characters and then they were just gone when the show ended."
Carter and Spotnitz talked to the Writers Guild of America, West Web site about returning to these long, lost friends and the realization that the more they help Mulder and Scully find their answers, the less they know about the world themselves.
What keeps you coming back to The X-Files?
Frank Spotnitz: I think it's incredibly rich for storytelling. The subject matter is about the limits of what we can understand about the world around us. I think all of us, whether we are skeptics or believers, sense there is more to the world then what we know. Even the most ridged scientist is humbled by what science has not yet conquered. So it's endless the stories you can tell about what's beyond our understanding. And then Chris created such really beautiful characters, especially in Mulder and Scully who are perfect opposites and such a great vehicle for telling these stories about the supernatural, but also embody this incredible love story.
Chris Carter: What kept me coming back were the characters as they had aged and the time we had been away from them.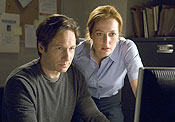 Photo: © 2008 Twentieth Century-Fox Film Corporation
David Duchovny and Gillian Anderson in The X-Files: I Want to Believe.
Frank Spotnitz: I realized how fortunate we were and how unusual it was to be able to return to characters you love in Hollywood. Instances like that are so few.
What's the difference, creatively, between having years to work on a movie script and having to bang out a new television script every week?
Chris Carter: When you do a TV series, you must parcel out the personal and professional relationships carefully or you're going to tire the characters out, you're going to tire yourself out, and you're going to tire the audience out. Then it turns into something we never wanted to turn it onto, something more melodramatic then The X-Files wanted to be. We explored these relationships through the episodes now known as the "mythology" episodes, which represent a third of the 200-plus episodes. That was our chance to do what I think what made those characters very, very popular and what gave them depth that the stand-alones couldn't — but the stand-alone episodes still made up most of The X-Files. What we've done with this movie is a stand-alone story, one that doesn't depend on knowing the series or the characters, and yet we still wanted to do what we've done with those mythology episodes, which is explore the characters' relationship in a new way.
Frank Spotnitz: The pressure in television is incredible because you've got to keep coming up with another script, another script, another script. The movie was completely different. We started work on the story in 2003, and then got derailed for four years by deal-making and the threat of a lawsuit. Then when we returned to it in 2007, we'd lost our notes.
Lost your notes?
Frank Spotnitz: We'd put them on note cards to pitch the studio, and we couldn't locate them. At first, we were very unhappy, but it ended up being a blessing in disguise. We remembered what the case was about, but the emotional beats, the personal beats between Mulder and Scully, we had to start from scratch, and we had changed. Four years had gone by since we had last tackled the story and five years since the show had ended and we had different things to say about these people and about life — and it made it so interesting.
How important is it to appeal to the fans?
Chris Carter: We always listen, but we've always done what we think is the right thing. If you are driven by so many voices — and it is a large chorus out there now — if you're driven to satisfy every one of those people, you'll never satisfy anyone. You have to satisfy the characters — that's who you have to satisfy.
How do you make the movie relevant to new audiences yet still appeal to seasoned fans?
Chris Carter: I'm talking to kids in college who say, "What's the X-Files?" They were four or five when it first came on. We tried to do a popular movie, but the reason for doing the movie was the enthusiasm of the hardcore fans. So while we want to introduce the characters, we don't want to punish the people who know the characters, their relationships and their journey, their quest, if you will, by going back over things, so we've hopefully integrated several of these things into the story.
Frank Spotnitz: That's something we're used to doing, honestly, having to serve several audiences. We had to do it in the first movie and as the TV show went on, it became increasingly obvious that that's what you needed to do as well. As early as the third or fourth season, we started to realize that there were some audiences that knew every detail of the ongoing alien mythology storyline and were waiting for very specific questions to be answered and then there was a much larger audience that was vaguely aware of it and would be lost if you tried to answer these very specific questions. That was a balancing act we were engaged in for most of the life of the series.
But how do you do it?
Frank Spotnitz: It's very much an emotional, intuitive thing. You need to figure out where your heart lies as a storyteller. What are the burning things that you must address? There are many questions of the mythology we had to sort of let go. There was no way of addressing them without losing the larger audience or getting bogged down in a side channel that wasn't interesting to most people.
Is there anything you miss about working on television?
Chris Carter: I think that the big screen demands of a storyteller seems tyrannical to me. If there's a moment's boredom, a moment takes you out of the movie, the audience finds itself back in its seat. You can't digress the way you can in television. I think some of the best storytelling is being done right now in television with digressions, explorations of character that are not a part of the artery of the plot system.
What's your creative process together?
Chris Carter: We sit in a room and we just talk, actually, before we ever start really plotting. We come up with ideas. I think some of the best work we do is when we're just talking about life and other things and about family and about the news. It's almost as if you need to unhook yourself from the subject to find your way back to it. I'm not saying we actually do this in any conscious way, it's just the way it's developed over the years and it's nice because it's kind of social.
Frank Spotnitz: In this instance, we broke the story as we always do — very, very carefully — and spent a lot of weeks in [Chris'] office in Santa Monica. Scene by scene, we'd use 3×4, lined index cards — we were sort of superstitious about it. We use black Sharpie pens, and we use clear pushpins to put them on the board. It's that precise. There's a discipline for that precision for focusing your mind and making sure you're really thinking about each card and each scene, what's the conflict in that scene and where are the characters.
We did that and then Chris would write and send me the file, and I'd go through the file and send it back to him, and then he'd go through it again, and we'd bounce the file back and forth between Santa Barbara where he was and Los Angeles where I was. We never actually wrote in the same room.
Which one of you is Mulder and which one is Scully?
Frank Spotnitz: I think by inclination, we're both Scully but both want to be Mulder — but we're held back by our rational skepticism. But I've been humbled over the years by our research that there's so much that we don't understand. It doesn't make me a believer, but it makes me humble in my disbelief.
But what's interesting, in this movie, is that there's an element of spirituality which may be surprising. Scully is a character of faith. She's a Catholic. Chris is a person of faith. He's not religious, but he does believe in God. I am not, although I'm very interested in religion and theology.
The movie has something to say about spirituality, and we spent quite a lot of time coming up with something that we could both believe in, that we both could say is true. That was the interesting challenging in this movie.
Tags: chris carter, frank spotnitz, iwtb, x-files